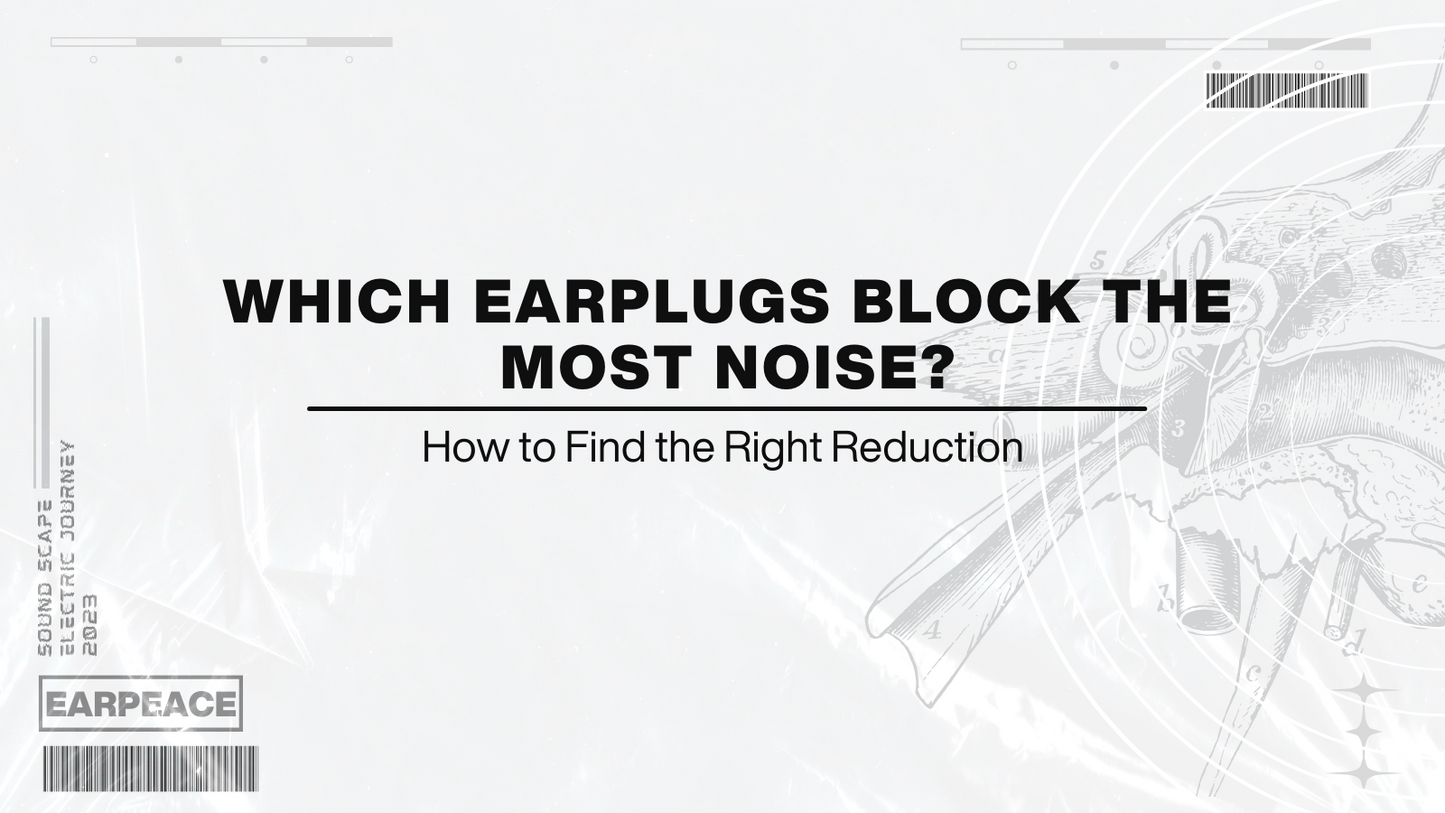 Which Earplugs Block the Most Noise?
Noise is a common issue that many people face in their daily lives. Whether it's the sound of traffic outside your window, the chatter of coworkers in the office, or the loud music from a neighbor's party, unwanted noise can be a major source of stress and distraction.Whether you need ear plugs that block all sound (or at least, as much as possible) or you need earplugs that allow you to hear conversation, the answers of what to look for are going to be very similar. 
Looking for an in-depth look at your hearing? Try: 
Understanding Noise Blocking
Before we delve into the various types of earplugs, it is important to understand how noise blocking works. When sound waves enter our ears, they vibrate the eardrum, which in turn sends signals to our brain, allowing us to perceive sound. Noise-blocking earplugs work by reducing the intensity of these sound waves before they reach the eardrum. This can be achieved through various mechanisms, such as absorption, attenuation, or a combination of both.
There are several pieces of crucial information you will want to look at no matter the type of earplugs you are choosing. All of these are important for determining the best kind of earplugs for your situation. While earplugs come in a variety of types, they will either feature no filter or a variety of filter options. Ear plugs that block all sound will frequently be referred to as a "full block" filter or a "full block" earplug. If you're looking for noise canceling earplugs for work or wondering do earplugs actually help at concerts, there are a few pieces of terminology that will be important to understand. 
dB
Rating Decibels are the unit of sound measurement. The higher the number, the louder it is. The best earplugs for noise reduction are measured by measuring the reduction in decibels (dB). 
Single Number Rating (SNR)
A system of measuring sound reduction per the International Organization for Standardization's ISO 4869. To find the sound attenuation level, subtract the SNR from the decibel level.
Noise Reduction Rating (NRR) 
A system of measuring sound reduction using OSHA ANSI/ASA S12.6-2016 standard.
To use subtract seven from the NRR number, divide by two and then subtract from the original  decibel level.
Trying to find out how to pick the best earplugs for concerts? Try: 
Decibel Reduction Range
Earplugs attenuate high frequency tones differently than low frequency tones. The lower the frequency, the less the attenuation level. This is why labels may feature a range of reduction.
There are several different types of earplugs available on the market today. This allows you to find the earplugs that are right for your needs and price point. 
Foam Earplugs
Foam earplugs are what most people are familiar with. They are inexpensive, mold with pressure inside your ear to create a seal, and are disposable. 
Silicone Earplugs
Silicone earplugs are reusable, moderately priced and frequently come in high-fidelity options that offer a better hearing experience. Because they are made of silicone they can be lighter and more comfortable than foam. 
Wax Earplugs
Wax earplugs are similar to foam in that they mold to your ear using pressure from the moldable wax. They are also inexpensive and reusable for a certain time period. 
Custom Molded
Custom molded earplugs are made by from an audiologist's mold of your specific ear shape. They are then fitted with the high-fidelity filters. They are expensive, but reusable and provide the most custom fit of all the options. 
Actually looking for earplugs to quiet the snorer in your room? Try: 
Best Earplugs for ADHD, Autism and Sensory Processing Disorders like Misophonia 
In the recent years, a rise in awareness about the needs of people with ADHD, Autism and Sensory Processing Disorders (SPD's) has resulted in an increased awareness of how earplugs can help reduce sensory processing burdens. Wearing earplugs reduces the sensory input and increases the threshold at which people with sensory processing issues can operate, allowing for better coping mechanisms. The best earplugs for adhd are ones that are super comfortable and offer a variety of filter options so the user can tailor their sensory needs to a variety of situations. 
Are there any ear plugs that block all noise?
Earplugs cannot block all the noise. They can drastically reduce the sound you hear, but even if it were possible to block all sound, you wouldn't want to for safety reasons. While sleeping you still need to be able to hear in case of an emergency, like a fire. Rest assured, finding the right earplugs will block a lot of the noise that is preventing you from sleeping, but it cannot block all noise. You will still hear things like alarms, barking dogs and if a television is on. If you're looking for the best earplugs for sleeping with a snorer, you want to look for the highest decibel reduction rating. For example, EARPEACE sleep has a decibel reduction rating of over 30dB's. 
For a more in-depth look at earplugs for sleeping, try: 
Why are EARPEACE earplugs different? 
In short? Our three patents. We are the only earplugs on the market with this many patents and this advanced of a product. 
Our patents are both for utility and design–meaning we've created something no one has and no one else can replicate that improves the utility (use) of wearing earplugs and the design of how earplugs work. This technology we've developed advances the experience of wearing earplugs, ensuring you have the most comfortable wearing experience possible, while the filter options can be tailored to your situational needs. 
Our mission is to meaningfully change the way people consider their hearing health and options to protect it. We want high quality hearing protection to be as common as sunscreen.
When we started in 2008, barely anyone talked about hearing protection. But we revolutionized the market with a discreet, comfortable, high-fidelity earplug built not only for musicians, but for all the fans at the event. We make audiologist recommended earplugs.
At the end of the day there are two important things to remember: noise is a part of life and also, the best earplugs are the ones you wear. That's why our engineering is focused on comfort and fit–we know that in order to protect your hearing or find the focus you need, you need to want to wear them!