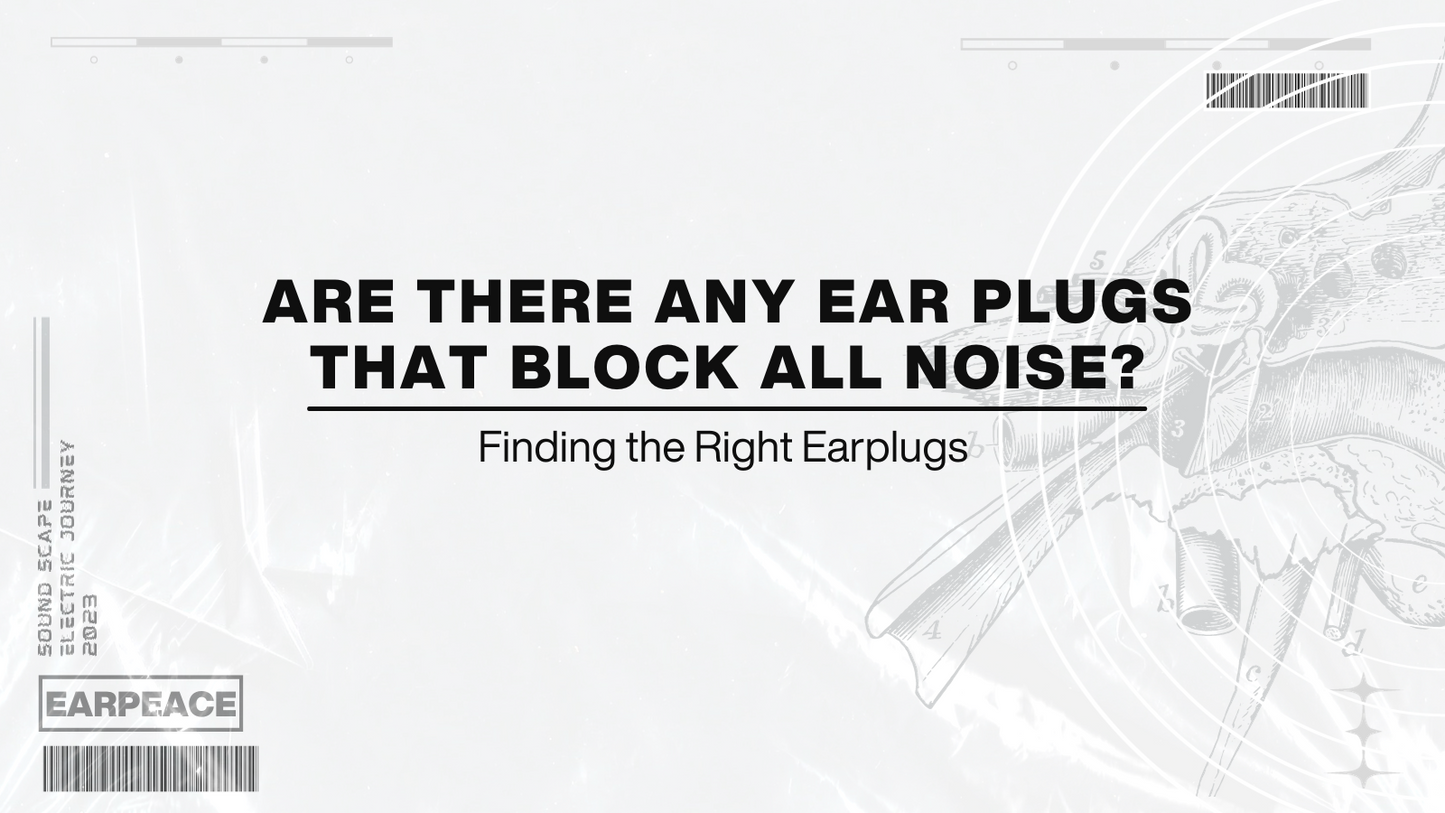 Noise pollution is a common problem in our modern world. Whether it's the constant hum of city traffic, the loud bangs from a nearby construction site, or the incessant chatter in a crowded office, unwanted noise can be a significant source of stress and distraction. This is where noise-canceling ear plugs come into play. But the question is, are there any ear plugs that block all sound for sleeping? Let's find out.
Which Earplugs Block out the most noise?
The short answer is none. No ear plug can block 100% of all noise. However, noise-canceling earplugs can significantly reduce the volume of sounds. They are particularly effective at blocking out steady, predictable noise frequencies such as the hum of a plane or the drone of a lawnmower.
Best Noise Canceling Earplugs for Sleeping
Many people want to know do ear plugs work for sleeping? They absolutely can! It is important to get an earplugs that utilizes a "full block" for purposes for sleep vs. an earplug that attenuates and clarifies sound (called a high-fidelity earplug). An earplug with a full block, blocks out the most noise but not all noise. (We always need to be able to hear for safety reasons such as a fire alarm.) The best earplugs for sleeping will be comfortable and have a correct fit. If you feel that your earplugs are not blocking noise, see if you have earplugs that attenuate sound and switch to a fuller block.
Look for a more in-depth guide to earplugs and your hearing health? Try 
Choosing the Best Earplugs for Noise Reduction 
When choosing noise-canceling earplugs, it's important to consider the Noise Reduction Rating (NRR). The NRR is a measure of how much noise the ear plugs can block out. The higher the NRR, the more noise the ear plugs can block.
Comfort is another important factor. The ear plugs should fit snugly in your ears without causing discomfort. Some people prefer foam earplugs for their comfort and ease of use, while others prefer silicone or custom-molded earplugs for a more secure fit.
Looking for information on earplugs for concerts? Try
Why Aren't my Earplugs Blocking Noise?
If your earplugs aren't blocking noise, there could be several reasons why. First, they may not be attenuated to a high enough NRR. With lower, high-fidelity filters you can still hear what's going on around you, but the noise is diminished. Remember, the higher the NRR number, the more sound it reduces. Another reason you might still be hearing disruptive noise is if the fit in your ear is too large or small, where the earplugs aren't seated correctly and can't make a complete "seal". Without that seal, noise can come through the leaks. Check the insertion instructions or try a different size ear plug. 
Alternative to Earplugs for Sleeping
One way you can either assist the earplugs sound blocking or use for sound dimming instead, is a white noise machine or app. White noise is a type of sound that contains all frequencies at equal intensity, which can help drown out the snoring noise and create a more soothing environment for sleep.
White noise machines are standalone devices that produce a continuous sound of static or a variety of soothing sounds like rain, waves, or fan noise. These machines can be placed in your bedroom and adjusted to your preferred volume and sound type. Some popular white noise machine brands include LectroFan, Marpac, and Adaptive Sound Technologies.
Alternatively, you can also use white noise apps on your smartphone or tablet. These apps offer a wide range of white noise sounds that you can choose from, and they often come with additional features like timers and the ability to mix different sounds together. Some popular white noise apps include White Noise Lite, Sleepo, and Relax Melodies.
Looking for tips on sleeping with a snorer? Try
Why are EARPEACE Earplugs Different? 
In short? Our three patents. We are the only earplugs on the market with this many patents and this advanced of a product. 
Our patents are both for utility and design–meaning we've created something no one has and no one else can replicate that improves the utility (use) of wearing earplugs and the design of how earplugs work. This technology we've developed advances the experience of wearing earplugs, ensuring you have the most comfortable wearing experience possible, while the filter options can be tailored to your situational needs. Our SLEEP earplug marries the patented design with a full block filter that is rated for 30db's. 
While no earplug can completely block out all noise, noise-canceling earplugs can significantly reduce unwanted sounds, making them an excellent choice for a variety of situations. Whether you're looking for earplugs for shooting, for sleeping, or for general noise reduction, there's a noise-canceling earplug out there that's right for you.
Remember, protecting your hearing is important. So, invest in a good pair of noise-canceling earplugs and continue to enjoy the activities you love most, knowing you are protected..